InspireSeattle Event on December 4, 2016
Transforming Pain, Fear and Anger to Action
WHAT: A workshop on Transforming Pain, Fear and Anger to Action
WHEN: Sunday December 4, 2016 from 1:30-4:30PM
WHERE: Westside Unitarians Universalist Congregation, in the basement meeting hall.
This forum was in partnership with multiple organizations, including Hate Free Delridge.
Now the election is finally over. But this election has widened our country s already divisive political environment. "Politically incorrect speech" has been honored in certain political circles. We've heard political candidates claim that our election system is rigged and watched them stir-up and unleash anger and hate throughout our country. With Donald Trump's surprise victory, our country now faces extensive uncertainty as Trump moves to address his campaign promises which pitted communities against each other, setting the table for continued anger and possible violence going forward.
On Sunday, December 4, 2016 from 1:30-4:30pm, we conducted an event to counter this negativity and help bring our community closer while providing tools to help us all get back to working together. This was an educational and participatory forum held at Westside Unitarian Universalist, 7141 California Ave SW, Seattle, WA 98136. This forum provided tools for transforming pain, fear and anger to action. This forum was professionally facilitated by Susan Partnow and Lola Peters and was supported by multiple partnering organizations.
The goals of this forum were multifold: to hear from a victim of a recent hate crime; to learn tools for successfully and peacefully countering hate speech when encountered in one's own community; to meet other concerned neighbors and share one's own experiences and perspectives in a safe and structured format; to learn from Hate Free Delridge's experience in bringing a neighborhood closer in response to a hate crime; and assistance in forming your own hate-free neighborhood group.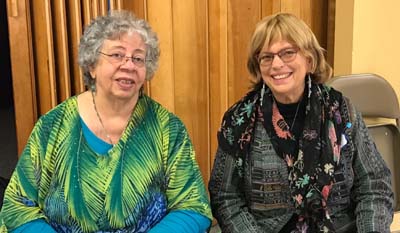 Many thanks to Lola Peters (left) and Susan Partnow (right) for facilitating this important workshop